Full Customization / Complete Process Control / Proven Results
Domite wear technology – specialize in the manufacture & supply of primary & secondary apron / belt feeder wear parts & liners. We supply some of the largest continuous mining operations in the world & have successfully done so for the last 50 years. Freeport McMoran / Vale / Barrick Gold / Newmont / Suncor / CNRL / BHP are just some of the many customers we supply.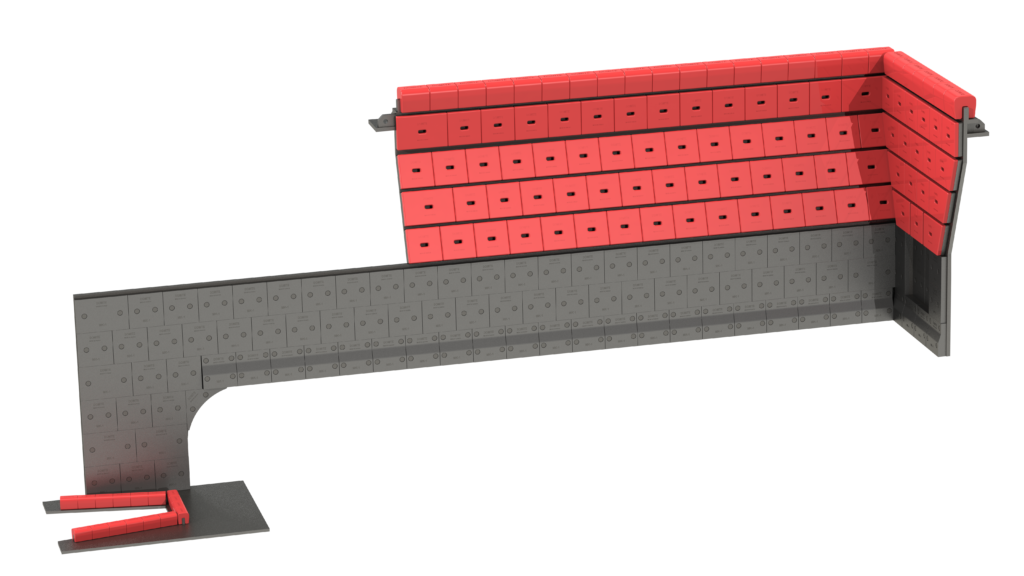 Our long life liners wear at a consistent rate so the material flow rate, velocity and channel is predictable and consistent yielding extended liner life and stable operating conditions.
We realize no two mines are the same, so each has to be understood to give the right solution / wear material for the mine. Flexible to suit any feeder application, under crushers / surge bins or reclaim stockpiles. Standard or customized liners to suit specific application.
Full CAD design & Engineering services available for optimized design, layout & instillation.
We offer the full package for primary and reclaim feeders.
Surge bin liners, Lip/loaf liners to protect the top rail.
Liners for the sides and back walls inc shear bar
Load out / discharge liners & lips
We have developed unique solutions to common wear problems
Taperline – as the material transitions from vertical to horizontal movement Taperline removes horizontal joints so no premature wear between liners occurs
Domite bolts or Domite Plugs – create a virtually flush wear face so no premature wear or channeling through the bolt holes
Domite big foot – Realizing the lowest row of liners often wears the quickest, wearing on the face and from the bottom up as material crushes between the pans and the liners, we increase the thickness of the liner at the bottom to offer more life.
Multiple alloys available to target abrasion and or corrosion.
Related Products
DOMITE® creates custom shapes and sizes specifically designed for your application.
Custom Parts